Current Spotlight – Kim Spoonhower
---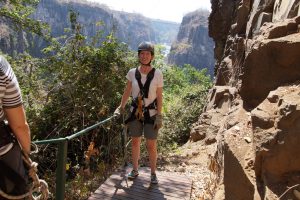 I have been a client at Get 2 the Core Fitness for over three years. In that time Sonia has taught me the value of trying something new. I felt guilty when I began working with a personal trainer- it felt like a luxury afforded to people with much fancier lives than my own, but I quickly learned the benefits of focusing  on my own health at least once a week.
I was inflexible, exhausted, and stressed. Sonia introduced me to the benefits of strengthening my core, the sweaty exhilaration of cross training in spin class, and the benefits of yoga. With her help, I have biked up mountains in Spain with my husband,  won first place in my age group for two 5K races, completed three half marathons, and installed my own dishwasher.
I include the dishwasher because through thoughtful listening and gentle encouragement, Sonia inspires me to try new things. I tried a knitting class and recently finished knitting my first sweater. I am taking piano lessons (a life-long dream) and played in public for the first time at the Akron Children's Hospital Piano-A-Thon last spring. I transitioned away form a career as a physician to spend time with my children who are growing up too fast, and I look forward to career changes that come next.
I think I am not alone in appreciating how one hour a week of training with Sonia can inspire radical change in the rest of your life outside the gym. Sonia helps strengthen your core, and with that strength comes the confidence to conquer the world, one small goal at a time.
---
Previous Spotlights\
Judy Moore, Trailblazer – Join Judy and set a goal for your own fitness this fall and blaze your own trail in a local park or neighborhood!
Be Your Own Supermodel – This summer, put on your shorts, pull on your swimsuit, and define beauty and health for yourself! Make the most of the long, sunny days and get out and get active!
Kate Wartko – Kate's motto is, "I want to be like a sunflower, so that even on the darkest days I will stand tall and find the sunlight."
Bridgett Rinalli – Her long road to recovery reminds us to give our bodies the gift of time to heal and strengthen. "Never lose sight of sight of your goal, even when its really, really hard! Stay the course."
Donna – Donna is 60 years old and enjoying life after she adopted a lifestyle of fitness, nutrition, and healthy living. Donna's favorite color is yellow, which is "bright and warm" like the sun and the warmth and inspiration her story offers others.
Carol Cain – Carol offers the following advice to others with similar goals of improving their fitness: "Every journey up a mountain runs into rainy days or even landslides. But one keeps climbing by alternate routes to the summit".
Connie Bradley – Connie Bradley exemplifies perseverance along her path towards health and fitness. Connie began her remarkable journey six years ago, and along the way lost 140 pounds, completed two half marathons, and one ultra marathon.
Judy Moore – Judy Moore is mother to three children and a volunteer at Akron Children's Hospital for over twenty years. She has been a client at Get 2 The Core Fitness for the past 2 ½ years where she has worked to achieve improved balance, strength, and stamina.
Beth Brinkley – Beth Brinkley began working out at Get 2 the Core Fitness two years ago, and is proud that she feels more comfortable in her clothes, she makes better choices with eating and exercise, and most importantly, she feels healthy.
Alisa Shepard – Alisa Shepherd is a cancer survivor, a new grandmother, and in the past year of working with Sonia, Alisa has been meeting her goals of improving her health, losing weight, gaining strength and improving back and leg pain caused by spinal stenosis.
Don Eagon – With dogged determination, Don Eagon, an avid cyclist and cancer survivor, persevered along many difficult roads on his health journey.
Pep the Elf – Those holidays are just hard to get through without getting off track. Pep the Elf has found some tricks to try to help you get through them with him.