Current Spotlight – Carol Cain
---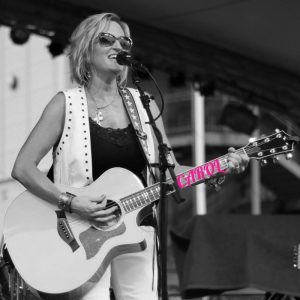 Carol Cain is a wife, mom, nurse, and the lead vocalist for a classic rock band, Instant Replay. She has been married 28 years, and has three children in college. Her accomplishments are many, and include completing five marathons, two half-marathons, and three triathlons. Of all of these, she notes her greatest accomplishment has been to set a good example of fitness for her children as they grew up. In doing this, fitness is part of Carol's lifestyle.
She began exercising after the birth of her second son, but realized that after her third child, a girl, she needed to set a good example of staying active so that her daughter did not hear the word "diet" as something she needed to do. Carol began running because it was inexpensive and could be done anywhere. After her fifth marathon, she realized that she needed to do more than just run to stay fit and injury-free, and she began to focus on strengthening her core with Sonia. That was over eight years ago.
Sonia helps Carol focus on strengthening all of her muscle groups, provides information for making good food choices, and motivates Carol to continue her workouts throughout the week on her own.
Carol notes that the key to achieving her fitness goals is "perseverance", and to "keep going despite how hard it seems". She prioritizes and schedule workouts into her daily routine. Carol also notes the importance of patience, that "everything takes time to develop and change".
Carol offers the following advice to others with similar goals of improving their fitness: "Every journey up a mountain runs into rainy days or even landslides. But one keeps climbing by alternate routes to the summit".
Congratulations to Carol on her continued accomplishments. Be sure to check out her band, 
Instant Replay
!
---
Previous Spotlights
Connie Bradley – Connie Bradley exemplifies perseverance along her path towards health and fitness. Connie began her remarkable journey six years ago, and along the way lost 140 pounds, completed two half marathons, and one ultra marathon.
Judy Moore – Judy Moore is mother to three children and a volunteer at Akron Children's Hospital for over twenty years. She has been a client at Get 2 The Core Fitness for the past 2 ½ years where she has worked to achieve improved balance, strength, and stamina.
Beth Brinkley – Beth Brinkley began working out at Get 2 the Core Fitness two years ago, and is proud that she feels more comfortable in her clothes, she makes better choices with eating and exercise, and most importantly, she feels healthy.
Alisa Shepard – Alisa Shepherd is a cancer survivor, a new grandmother, and in the past year of working with Sonia, Alisa has been meeting her goals of improving her health, losing weight, gaining strength and improving back and leg pain caused by spinal stenosis.
Don Eagon – With dogged determination, Don Eagon, an avid cyclist and cancer survivor, persevered along many difficult roads on his health journey.
Pep the Elf – Those holidays are just hard to get through without getting off track. Pep the Elf has found some tricks to try to help you get through them with him.