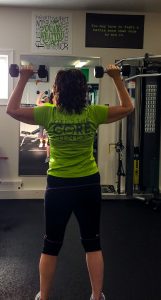 Beth Brinkley began working out at Get 2 the Core Fitness two years ago, and is proud that she feels more comfortable in her clothes, she makes better choices with eating and exercise, and most importantly, she feels healthy. Beth notes that she did not come from a "disciplined, sports family", and that she wanted to be different. Once told that she would need to wear an ankle brace the rest of her life in order to be active, within months of working with me, Beth has not needed that brace and has lost weight and achieved her goal of living healthy.  
 
Beth attributes commitment, encouragement, and patience to helping her overcome prior bad habits and a need for quick change to achieve her goal of living healthy.  She notes that upon meeting me she felt comfortable and challenged, yet not pressured, and that this helped her recognize that true health and change takes time.
 
Upon reflecting that health requires steady change over time, Beth notes, "Be patient. This is a marathon not a sprint, but it is oh so worth it."  She had to overcome discouragement and a lifetime of believing that change can happen quickly. Beth had followed friends and fads over the years and not achieved her goals, and finally found the encouragement and support she needed with a personal trainer.
 
I am proud of Beth for achieving and sustaining her goals of healthy living, and I admire her dedication to both her health and her business. Beth demonstrates what can be achieved with a positive attitude and dedication. Congratulations, Beth, on all your accomplishments!