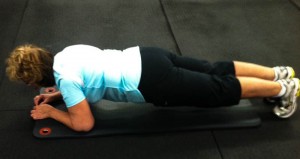 Connie Bradley exemplifies perseverance along her path towards health and fitness. Connie began her remarkable journey six years ago, and along the way lost 140 pounds, completed two half marathons, and one ultra marathon.
 
A retired teacher who enjoys reading, cooking, and shopping, Connie has been married to a minister for 43 years and has one daughter and two grandchildren. When asked about obstacles she faced in achieving her health and fitness goals, she notes, "Like everyone, food temptations can be a challenge. Being around lots of church potlucks isn't easy, but you just bring the food you can eat to those events and learn to pick and choose selectively."
 
Connie notes several keys to achieving her goals included journaling her daily food intake to keep track of what she ate, exercising, and persistence. Working out with Sonia helped provide firming and toning exercises as well as caring encouragement.
 
For those sharing similar fitness goals, Connie offers the following advice:
 
"Don't give up. Even when you fall (and you will), keep going. Each day is a new beginning. Don't look at the overall picture. The goal sometimes seems insurmountable. Look for daily successes- I kept my journal today, I exercised today, I didn't give in to that extra serving of food, I lost inches, I made it through the day. All of those things equal long range success."
 
Congratulations to Connie for her many achievements.