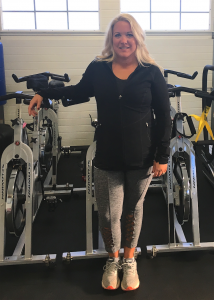 Kate Wartko's life is rich with family and success as a wife of eleven years, a mother of two young children, and a small business owner. In the midst of her busy life, Kate celebrates two significant accomplishments in this month's Client Spotlight. By sharing her story, Kate hopes that her hard work and courage can inspire others who may share her struggles with depression and anxiety.
Her first accomplishment is getting help for the anxiety and depression that she has battled for years. Kate notes that it was difficult to accept her mental illness because it has always been "hush hush". Kate describes her journey to acceptance:
"Acceptance is not a weakness, it will help you move forward. You learn you are just wired this way. You learn that it is something you will fight every day. The strong ones get help with medication and counseling. Forgiveness in yourself and letting go will help in the ability to rise above. "
Kate notes that in addition to counseling and medication, exercise and regular workouts significantly help with her depression; she describes it as being "lifted out of a fog". Kate notes that in addition to exercise, Sonia herself "not only helps your body get stronger, she makes your mind stronger as well."
In addition to the work Kate invests in her mental health, she also succeeds at putting herself first to get healthy and exercise more. She recently lost forty pounds in three months. She incorporates three workouts with Sonia and several on her own each week. She also keeps a food journal and adheres to a diet of clean eating.
Kate says that her health journey can be frustrating at times when the scale just won't move, but she appreciates Sonia's expertise to make adjustments as well as her positive encouragement to keep Kate moving forward. Kate notes the value of a personal trainer:
"You can always talk yourself out of a walk or a regular gym. But [Sonia] is scheduled and honestly, she means so much to me I don't want to let her down. She's always rooting for me."
Kate learned to put her own health first, sought help for her mental illness, and is thriving with renewed energy and strength. Kate's motto is, "I want to be like a sunflower, so that even on the darkest days I will stand tall and find the sunlight." Kate's story and the importance of exercise in her journey may be the very ray of light that inspires someone else on their own journey towards health.