Quiet moments to relax and reflect.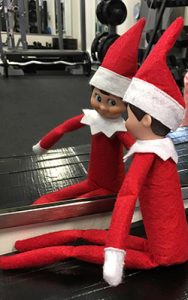 I awoke to a loud, "I FINISHED AN EARLY WORKOUT IN THE GYM AND NOW I NEED SOME CHOCOLATE!!"
 
In spite of a vigorous 4am workout to his favorite Christmas music, Pep's cravings were getting the best of him (and my sleep).
 
"Pep, remember to focus on what is driving your cravings," I yawned.  "Have you ever tried to just sit quietly to listen to your own breath or tried to quiet your mind?"
 
I took Pep back to the gym where I dimmed the lights and got him to sit comfortably with his eyes closed.
 
"All I hear is Jingle Bells in my head," he said.
 
We focused on taking deep breaths in through his nose to the slow count of 4, then slowly releasing that breath through his mouth to the count of 8 or 10. With each exhale he blew away negative thoughts that made him feel worried or stressed. It took a bit, but soon Pep was able to slow his breathing, calm himself, and begin his day refreshed!