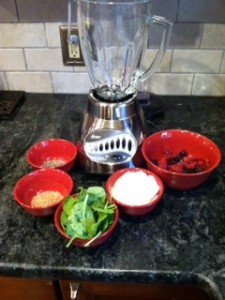 Smoothies are a great on-the-go drink that can pack a big helping of fruits and vegetables. This berry smoothie recipe combines anti-oxidant rich berries with the iron of spinach for an easy, healthy on-the-go meal or snack.
Berry Smoothie (Serves 1) | Sonia Maranville
8 ounces of water
1 cup fresh or frozen berries
1 cup fresh spinach
1 cup Greek yogurt
1 tablespoon ground flaxseed
1 tablespoon chia
Ice cubes (optional)
Combine ingredients in a blender until smooth, then add seeds.
*Can add Stevia to sweeten