Chicken salad is a great way to use up leftover chicken. This cranberry almond chicken salad turns plain old hum-drum leftover chicken into a meal by itself. Serve it up with crackers, wrapped up in or served on top of a bed of lettuce, or while whole grain bread/buns.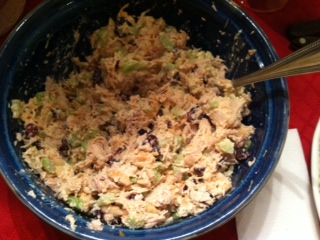 Cranberry Almond Chicken Salad | By Sonia Maranville
1 ½ cups cooked chicken, shredded
½ cup slivered almonds, you can toast them in a skillet if desired
½ cup dried cranberries
½ cup celery, diced
½ cup shredded carrots
1/3 cup mayonnaise (try making your own mayonnaise using this quick DIY recipe)
Pour everything into a bowl and mix. Serve with crackers, over lettuce, bread, or buns.