A holiday in which the main event is eating a decadent meal does not mean you need to forget about your goals to eat nutrient-dense, real, and healthy foods. Here's how to get away with that Thanksgiving meal!
---
Turkey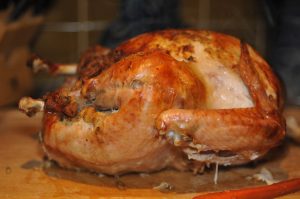 Grilling isn't just for summer. Try putting your turkey on the grill this year to get a great flavor! This is how we cook our turkey at home:
Put your thawed turkey (any size) on a rack in a roasting pan
Cut a lemon in half, squeeze it inside the turkey, and then put the pieces inside of it along with an onion
Rub Krazy Jane's Mixed up Salt pretty heavily all over the outside
Make sure your grill is heated to 350 degrees, place the roasting pan with the turkey on the grill, and close the lid
Make sure your grill stays at 350 degrees throughout the turkey grilling
A whole turkey is done when the internal temperature is 165 degrees (same as in a conventional oven) as measured with a food thermometer
The last 10-15 minutes take the turkey out of the roasting pan and place it directly on the grill
Let turkey sit for 15-30 minutes before carving
---
Green Bean Casserole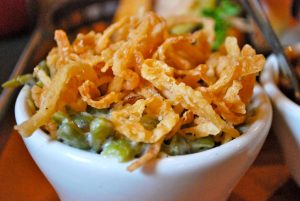 Slow Cooker Green Bean Casserole with Crispy Onions (from Eating Well)
Skip the heavily processed cream soup for a healthy version of this classic casserole.
Ingredients
Green Beans & Mushrooms
2½ pounds fresh green beans, trimmed and cut into thirds
1 (10 ounce) package mushrooms, sliced
1 large onion, chopped
3 large cloves garlic, minced
3 tablespoons extra-virgin olive oil
1¼ teaspoons salt
½ teaspoon ground pepper
Onion Topping
1 medium onion, halved and sliced
1 cup buttermilk
⅓ cup all-purpose flour
¼ teaspoon ground pepper
⅛ teaspoon salt
Canola or olive oil cooking spray
Sauce
3 tablespoons cornstarch
2 tablespoons dry sherry
1 cup sour cream, at room temperature
½ teaspoon dried thyme
Directions
To prepare green beans & mushrooms: Combine green beans, mushrooms, chopped onion, garlic, oil, 1¼ teaspoons salt and ½ teaspoon pepper in a 5½- to 6-quart slow cooker. Cook on High until tender, about 2½ hours.
Meanwhile, preheat oven to 400°F.
To prepare onion topping: Combine sliced onion and buttermilk in a medium bowl. Let stand for 15 minutes. Drain (discard buttermilk) and return the onion to the bowl. Sprinkle with flour, pepper and salt and toss to coat well. Transfer to a large rimmed baking sheet. Generously coat with cooking spray. Bake, stirring once or twice, until tender and crisp, 25 to 28 minutes. Let stand at room temperature for up to 2 hours.
To prepare sauce: When the vegetables are done, combine cornstarch and sherry in medium bowl; stir until smooth. Add sour cream and stir to combine well. Add the sour cream mixture and thyme to the vegetables; stir until well coated with the mixture. Cover and continue cooking for 20 more minutes. Serve topped with the crispy onions.
---
Sweet Potatoes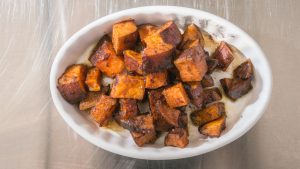 Honey Roasted Sweet Potatoes (from Food Network)
Quick, simple, and lower in unnecessary fat and sugar than sweet potato and marshmallow casseroles.
2 pounds red-skinned sweet potatoes
2 tablespoons olive oil
2 tablespoons honey
1 teaspoon fresh lemon juice
1/2 teaspoon salt
Directions
Preheat oven to 350 degrees F.
Peel and cut the sweet potatoes into 1-inch pieces and put in a 9 by 13 baking dish. In a small bowl whisk together olive oil, honey and lemon juice. Pour mixture over potatoes and toss to coat. Sprinkle with the salt, and bake, stirring occasionally, for about 1 hour, until potatoes are tender.
Or try this recipe…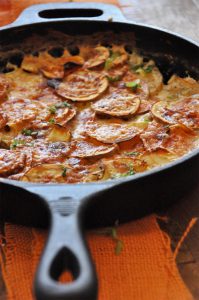 Sweet Potato Pommes Anna (from Eating Well)
Thinly sliced sweet potatoes are layered for a nutrient-dense galette.
Ingredients
3 tablespoons unsalted butter, melted
2 tablespoons extra-virgin olive oil
12 ounces purple sweet potatoes, peeled
12 ounces orange sweet potatoes, peeled
12 ounces white sweet potatoes, peeled
1 teaspoon chopped fresh thyme
1 teaspoon salt
1 teaspoon ground pepper
Directions
Preheat oven to 400°F.
Combine butter and oil in a small dish. Liberally brush the bottom and sides of an 8-inch cast-iron skillet with some of the mixture.
Using a mandoline, thinly slice sweet potatoes about 1/16 inch thick. Arrange one-fourth of the potatoes in concentric circles in the pan, overlapping the slices and alternating colors. Brush with some of the butter mixture and sprinkle with ¼ teaspoon each thyme, salt and pepper. Repeat to make three more layers.
Heat the pan over high heat until the sweet potatoes start sizzling, about 3 minutes. Cover the pan with foil and transfer to the oven. Bake for 30 minutes.
Uncover and continue baking until the sweet potatoes in the center are easily pierced with a skewer and the bottom is golden brown and slightly crispy, 20 to 25 minutes more.
Let cool for 10 minutes. Run a small sharp knife around the edge of the pan to loosen the potatoes, then invert the galette onto a serving plate. Cut into 8 wedges.
---
Mashed Potatoes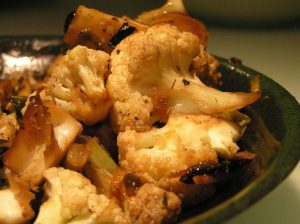 Roasted Cauliflower with Mojo Sauce (from Eating Well)
Any variety of roasted root vegetables are a delicious substitute for mashed potatoes. This recipe adds a bit of flavor to roasted cauliflower.
Ingredients
½ cup garlic cloves
6 tablespoons extra-virgin olive oil, divided
1 tablespoon butter
3 tablespoons chopped tomato
2 tablespoons orange juice
2 teaspoons minced chipotle in adobo
¾ teaspoon kosher salt, divided
10 cups cauliflower florets (from 2 large heads)
¼ cup crumbled Cotija cheese
1 tablespoon chopped fresh cilantro
Directions
Preheat oven to 450°F.
Place garlic, 4½ tablespoons oil and butter in a small saucepan. Bring to a simmer over medium heat. Reduce heat to maintain a simmer, cover and cook until the garlic is very soft, about 20 minutes. Remove from heat and let cool for 10 minutes. Transfer to a blender. Add tomato, orange juice, chipotle and ½ teaspoon salt. Puree until smooth.
Meanwhile, toss cauliflower in a large bowl with the remaining 1½ tablespoons oil and ¼ teaspoon salt. Spread in a single layer on a baking sheet. Roast, stirring once, until browned on the bottom, about 20 minutes.
Toss the cauliflower with the sauce and top with cheese and cilantro.