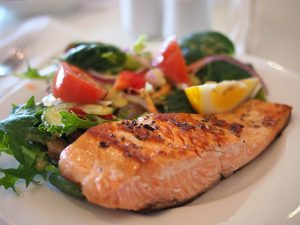 Recipe adapted from Cooking Light. Click here for full recipe.
Show your love by dining in with this simple, healthy meal that takes advantage of abundant, seasonal citrus fruit. Salmon is packed with heart-healthy omega-3 fatty acids.
Ingredients
2 (or more) salmon filets
pinch of kosher salt
pinch of ground black pepper
1/2 cup grapefruit sections
1/2 cup orange sections
1/4 cup diced shallot (you could substitute garlic or red onion)
1/4 cup chopped flat leaf parsely
1 1/2 tablespoon (or a large squeeze) of fresh lime juice
Directions
Prepare the salmon in your favorite method of cooking fish.
Stovetop: Swirl a pan with olive oil and place over medium-high heat. Place salmon seasoned with salt and pepper in the pan and cook approximately 4 minutes on each side, depending on the thickness of the fillet).
Oven: Preheat oven to 425. Place salmon on a foil or parchment-lined baking sheet. Drizzle with olive oil and season with salt and pepper. Cook approximately 12-15 minutes. The salmon is done when it flakes easily.
While the fish is cooking, prepare the citrus salsa. Combine grapefruit and orange sections in a bowl with 2 tsp of olive oil, shallot, parsley, and salt and pepper to taste.
When fish is cooked, top with salsa and serve with quinoa or rice.