Just like the old stuffed pepper that you have always made, but with a mixed-up twist. It is just as good as usual. Like they always say, "It's all going to the same place!"
---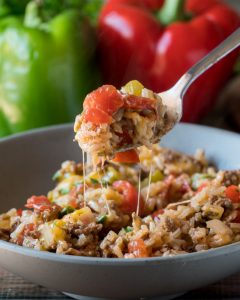 1lb ground beef, chicken or turkey.
2 green, yellow, orange or red bell peppers, diced (can use semi hots if you like a little bite)
1 onion, chopped
1 (14.5 ounce) can diced tomatoes (this time of year I use fresh diced tomatoes from the garden)
1 (10.75 ounce) can spaghetti sauce
1 cup cooked rice
1 cup shredded cheddar or mozzarella cheese
*serves 6
1. Place a large skillet over medium-high heat. Add ground beef and cook 5-7 minutes, breaking into small pieces as it browns.
2. Add onions and peppers in with the bee; stir to combine.  Once the peppers have started to soften and the onions are translucent, carefully drain excess grease from the skillet.  Season with salt and pepper.
3. Return to stove reducing heat to medium. Stir in diced tomatoes with juice, spaghetti sauce, and cooked rice.
4. Sprinkle with shredded cheese. Serve when cheese is melted.