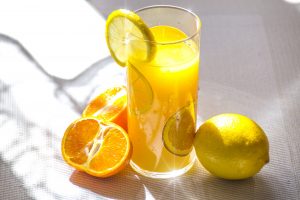 Gatorade has a lot hydration benefits post-work out, but it also has a lot of unnecessary sugar, artificial colors and artificial flavorings. This DIY Gatorade recipe will help to replenish electrolytes, tastes great and is naturally sugar-free. So the next time you go to grab for a bottle of Gatorade off the shelf, take a few minutes to look at the ingredients and consider what you are putting into your body. Making a hydrating, delicious post-workout drink is easier than you though.
Try this recipe for DIY Gatorade
Juice from half a lemon or orange orange
¼ teaspoon Himalayan/Celtic Sea salt
Filtered water
Squeeze the juice from your citrus fruit (try to avoid seeds). You can either do this by hand or with a juicing tool. Fill a BPA free bottle with filtered water, add the juice and salt. Shake well and let sit in the refrigerator for one hour. Make a few large batches so you have enough to last through all of your workouts, sporting events or practices through the week.