As the seasons change, so does life. It is up to each and every one of us to decide whether we are going to grow with change or not. "Life is change, growth is an option" has been my mantra for years, and at this time of my life there is a lot of change.
As some of you know, I am moving to my very own private, personal fitness gym in Uniontown, OH. Along with moving, I have been working on a new name and website for a couple of months. I am very excited to share with you how everything is coming together.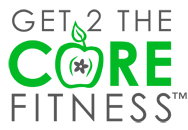 Get 2 The Core Fitness is the new name of my facility. I am working on an Advanced Health and Fitness certification and will be adding new and exciting features at the gym including cycling classes.
Everyone has issues and struggles in one area or another of their life. Let me help you get to your core issues, whether it be physical, mental, or emotional barriers that are stopping you from meeting your goals and moving forward to growth in your life of change. I am eager to see the changes that will occur because of the new opportunities that we will face in getting to the core of fitness!
Life is Change, Growth is an Option