Breakfast- It works for humans too.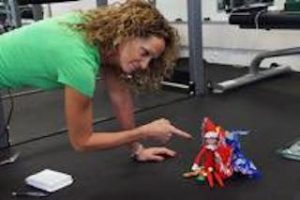 Pep just didn't seem to be able to keep up in spin class mid-morning today.  He looked tired, even though his sleep habits have significantly improved.
"I don't know what's wrong!" he said as he stopped pedaling. "I had water, I slept, I haven't had any candy! In fact, I didn't even have breakfast, I just wanted to get to work!"
"Pep! Breakfast is fuel for the day! No wonder you ran out of gas!"
"I was in a hurry and I didn't have time!"
"Nonsense! Quick, to the kitchen!"
I showed Pep how to make a healthy breakfast in less than two minutes in the microwave. Spray a microwave safe dish with olive oil. Whisk two eggs with a bit of water and pour into the bowl. If you have some veggies left over from dinner, add them! Put the dish in the microwave for 1 minute and 45 seconds (note that cooking times can vary based on microwave so watch closely). For added protein sprinkle some shredded cheese on top. Voila! A fast breakfast to keep you running until lunch and less likely to crave sweets!
Check out this video recipe tutorial and other recipes for healthy snacks andmeals!