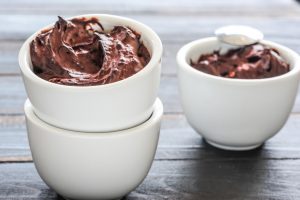 Elves LOVE chocolate pudding and hate anything green. Pep helped me make both variations of this recipe. He really didn't want to try it, but once he did, he loved it!
Variation 1
2 small very ripe avocados 
1/4 cup water 
3 tablespoons cocoa (9 grams) 
6 tablespoons granular Splenda or equivalent liquid Splenda 
1/2 teaspoon vanilla 
Pinch salt
Scoop the avocado flesh into a food processor with the chopping blade inserted. Add the remaining ingredients. Process 4-5 minutes until very smooth, scraping down the sides occasionally. Spoon into two dessert dishes and cover with plastic wrap. Chill well before serving.
Variation 2
2 large, ripe, pitted avocados
1/2 cup cacao powder, raw
1/4 cup Almond Breeze almond coconut milk
1/3 cup honey, raw
1/8 tsp sea salt

Follow directions above
Makes two 1/2-cup servings
Nutrition information for Variation 1:
With granular Splenda: 
Per Serving: 189 Calories; 15g Fat; 3g Protein; 15.5g Carbohydrate; 8g Dietary Fiber; 7.5g Net Carbs
With liquid Splenda: 
Per Serving: 171 Calories; 15g Fat; 3g Protein; 11g Carbohydrate; 8g Dietary Fiber; 3g Net Carbs
Chocolate Velvet Avocado Mousse