It is always hard to resist the cookies, candies, and sweets laying around during this time of the year. Instead of trying to avoid them altogether, let's have a homemade cheat that helps us deal with that sweet tooth.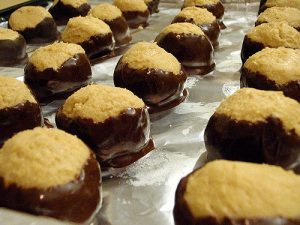 1 cup peanut butter (natural peanut butter without added sugar)
3/4 cup golden raisins 
1/4 teaspoon vanilla extract
1/4 teaspoon salt 
3/4 cup semisweet chocolate chips 
1/2 tablespoon coconut oil 

Directions
1. combine peanut butter, raisins, vanilla, and salt in container of a food processor or blender. Pulse until mixture is smooth.

2. Roll the mixture into 1 inch balls. Cover and chill for 1 hour.

3. Combine the chocolate chips and oil in a medium saucepan. Heat gently until just melted, stirring often.

4. Dip the balls into the melted chocolate, working with one ball at a time. Lift the ball out with a fork and tap fork gently on the side of the bowl in order to allow excess chocolate to drip off.

4. Place on wax or parchment paper until chocolate is set or chill to set quickly. Store in the refrigerator.
* makes 18 balls

Recipe modified from Gretchen Brown of kumquatblog.com