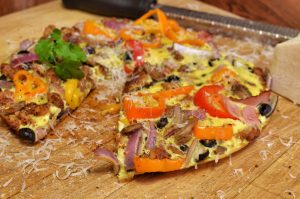 Ingredients
10 eggs (or 12 egg whites, or mix of egg whites and whole eggs)
1/4 cup of milk
pinch of salt
dash of pepper
the rest of the ingredients are up to you: sautéed onions, garlic, fresh spinach, shredded potatoes or sweet potatoes, zucchini, chunks of pre-cooked squash, mushrooms, asparagus, broccoli, cauliflower. . . load it up with vegetables. Add leftover meats like chicken or beef. Add a handful of cheese, and any herbs that need to get used up.
Swirl of olive or avocado oil
Directions
Preheat oven to 425F.
Whisk together eggs and milk.
Add whatever you are mixing in.
Heat oil in an oven-safe skillet (like a cast iron skillet) over medium high heat. Pour in ingredients, and cook for a few minutes until mixture starts to set around the edges. Remove from stove and place in oven for 20 minutes, or until the top is golden and eggs are cooked through. Cut into pie-shaped wedges and serve warm.
This reheats well for breakfast for the rest of the week!