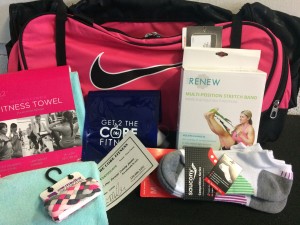 Do you need some extra motivation to get into shape this holiday season! Between the buffets and cookie trays, staying focused on your health can be a little tricky.
I'm here to motivate my clients with a fun contest to help keep you on track! My Gift that Keeps Giving contest rewards the clients who are continuing on the path to fitness this season. An entry into the contest is received with each training session provided the supply a weekly completed food journal and one weigh in each week.  The contest goes through January 3 and the winner will be announced that day so there's still time to get a few more workouts in before the contest ends.
The winner will receive the items above including a Nike gym bag, Suacany socks, head band, stretch band, workout sweat towel, and of course a FREE one hour personal training session!
Gift of Health Prize Package