Kabob Recipe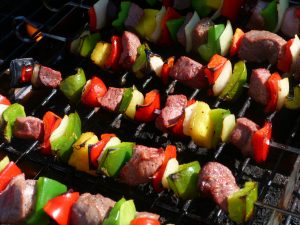 Craving a fresh, savory summer meal on the grill? Go with this tasty kabob recipe. Don't forget to add your favorite veggies to get the nutrients needed for your summer activities!
4 Tbl oil (olive or grapeseed)
5 Tbl liquid aminos*
1 Tbl Worchesteshire sauce
1 medium onion, chopped
3 Tbl lemon juice
1/2 tsp pepper
Tabasco to taste
Mix and marinate cubes of chicken, beef, shrimp, or vegetables in sauce. Try to keep chunks of meat and vegetables the same size for even cooking. Skewer meat and vegetables with similar cooking times together and grill. If you are using wooden skewers, be sure to soak in water for 10-30 minutes prior to grilling to prevent burning.
Serve with a side of brown rice or quinoa for a quick, healthy meal!
*Liquid aminos are a 1:1 substitute for soy sauce. Brands such as Braggs are a gluten-free option but still contain soy. Liquid amino brands such as Coconut Secret are similarly substituted but not derived from soy.