I recently hosted the first of what will become a monthly event for Get 2 the Core Fitness. The program is called More than a Meal and in this series we will round up healthy recipes and prepare and eat them together as a group. I often hear from my clients that they have problems finding diversity in their meal choices when trying to choose healthy options. More than a Meal is here to let you know that you do not have to sacrifice taste when you are trying to eat healthy.
Below are some recipes from our event. The rest can be found on our Healthy Eating Recipes page!  You can sign up to attend our next More than a Meal event taking place on March 19, 2014! The cost is $10 and we do ask that you pre-register using the form above or by calling 330.806.2452.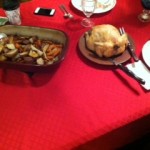 Baked Whole Chicken | By Sonia Maranville
1 Whole chicken
Let it sit in refrigerator uncovered for 24 hrs for a crispier done skin
Stuff the chicken with ½ an onion and ½ a lemon
Season outside with Jane's Krazy Mixed Up Salt or your favorite seasoning
Set chicken on a rack in bottom of a roasting pan or deep baking dish (I like stones)
Put chicken uncovered in preheated 350 degree oven for 1 hour or until inner temperature is 165 degrees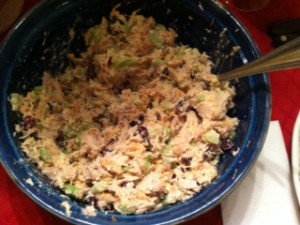 Cranberry Almond Chicken Salad | By Sonia Maranville
1 ½ cups cooked chicken, shredded
½ cup slivered almonds, you can toast them in a skillet if desired
½ cup dried cranberries
½ cup celery, diced
½ cup shredded carrots
1/3 cup mayonnaise (find Ann's recipe to make your own mayonnaise)
Pour everything into a bowl and mix. Serve with crackers, over lettuce, bread, or buns.
During our event, we also served Chicken Fried Quinoa and Apple Muffins – all of the recipes from the event are available for you to try! Please be sure to let me know how your recipes turn out!
More than a Meal – Healthy Recipe Roundup