Have you ever tried meal planning? There are several useful apps and tools that can really make meal planning a cinch, some sites even send a weeks worth of meals, shopping lists and recipes directly to your inbox. This week I'm welcoming another guest blogger, this time in the form of a client. Chellsea is a working wife and mother of two who recently began meal planning. What started out as a way to feed a family of four while juggling after-school activities AND a budget, is turning out to be yet another way to plan for and achieve fitness goals.
Meal Planning 101
Life is busy. It just is. Whether you are fending for yourself or you are part of a family unit, it is easy to find something to fill up every spare minute of the day.  Some nights it seems like my husband and I are part of a tag-team relay as we attempt to get the kids and ourselves to our respective lessons, meetings or activities. It becomes even more chaotic when one of us realizes that there is nothing thawing out in the sink, patiently waiting to be cooked. You would think that after 12 years of marriage that we would have this part down pat, but we don't. Which is why earlier this year I decided to take a stab at meal planning.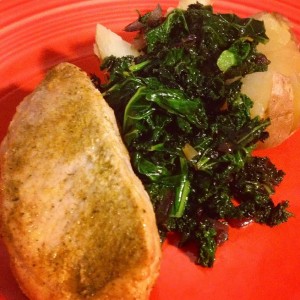 Excited for a new challenge, I went right to the internet to see if I could download an app or a program that would make the process simple. I already had close to 1,000 recipes waiting to be cooked pinned to various Pinterest boards. I just needed to figure out which ones I wanted to make during my first week and how I wanted to track them.
Feeling a bit overwhelmed by the existing online planning tools I took to my handy pen and paper. I wrote out our weekly plan and tried to accommodate for lessons and meetings with crock pot recipes and one-dish meals. I planned and shopped and hung my plan up on the fridge like a gold-star essay. Week one was a success.
The following week I got a little ambitious and moved my planning to a spreadsheet, mostly because I didn't want to lose track of the recipes I'd used the previous week. The spreadsheet evolved into a pretty elaborate framework where I stored links to recipes, created a weekly shopping list and even made notes on what we liked and didn't like about the recipes. The spreadsheet is actually a Google Document so I can access it from my Google Drive on my phone, tablet or computer. I can also share my plan with friends!
Week after week – the recipes have been accumulating. I have a pretty fair base to go from and I'm starting to repeat recipes from time to time. Speaking of recipes, if you are looking for a great jump start to meal planning there is an excellent blog called Shrinking Kitchen, she plans out a week of healthy meals (and one snack) and provides the recipes. We have some allergies in our house so I typically have to modify most recipes but it is at least a great jumping off point.
The Results
Leftovers – we always have leftovers for lunch the next day, which means that I'm pre-packing lunches the night before and freeing up time during the busy morning routine.
Savings – Naturally our budget has benefited from having a plan. I stick to my shopping list each week instead of grasping for ideas and over-buying to compensate for my lack of planning. Also – all of the great leftovers & packed lunches eliminates any need for eating lunch out during the week!
Health Benefits – By mapping out our meals for the week I can really keep my food intake under control. I'm eating less junk because I'm actually eating wholesome, filling meals. My meals are also void of any pre-made or pre-mixed sauces, seasonings and ingredients. This means no hidden sugar, sodium or ingredients I can't pronounce!
Resources
Like I said before, the spreadsheet method works best for me, but there are some really great sites and apps out there to help. And as for my recipes – aside from Pinterest, I have a few go-to places where I know I can find healthy & delicious recipes that are Real Food & budget friendly!
Planning
Evernote – If you already use Evernote, consider adding a folder for meal planning. I have a few friends who swear by it.
Meal Planning by Food.com – I don't know much about this one but it seems pretty robust if you are looking for a bit more help with your planning.
Pepperplate – If I were to abandon my spreadsheet, it would be for Pepperplate. This site/app does exactly what my spreadsheet does, but it is prettier.
Recipes
Like I said – I typically use Pinterest to start my planning but I do have a few go-to places to get healthy, real food recipes.
100 Days of Real Food – Great inspiration for why you should switch to real foods along with great recipe ideas and a large network of resources.
Skinnytaste – I like Skinnytaste because they do a great job turning comfort foods into things you can incorporate into your weekly menu.
Shrinking Kitchen – I mentioned this one before – but I'm still going to include it in this list because, yum.
I'd like to thank Sonia for letting me Blog this week. I can honestly say that Sonia has been a great influence on my healthy lifestyle. I have been working out with her for two years and I love how each week she manages to get me out of my fitness comfort zone and achieve my goals.