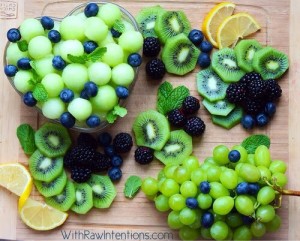 Congratulations! You've had a stellar week at the gym, avoided the box of donuts at the office and politely passed on the afternoon latte run. You deserve a little end-zone celebration, right? The Super Bowl and snacks go together like chips & dip – but before you start to panic – we've rounded up a great list of healthy snacks that you can enjoy at the game this year!
A creative snacking spread doesn't have to be filled with fat! Get inspired with some of the recipes below or keep it simple with colorful fruits & vegetables! Mix up Blueberries & Grapes for a Seattle Seahawks approved snack – or pair blueberries and strawberries for your New England fan friends!
The Best Oven Baked Chicken Wings
(from 100 Days of Real Food)
Loaded with flavor and spices, these healthier baked wings are a great option for the big game!
BAKED BUFFALO CAULIFLOWER BITES
(from Persnickety Plates)
Enjoy the flavor of buffalo wings in veggie form with these delicious baked buffalo cauliflower bites! They have all of the flavor of regular buffalo wings without the fat and calories!
Apple Nachos
(from The Crafty Blog Stalker)
Skip the chips and queso and load up colorful apple slices for a crunchy, sweet treat! Apple nachos are tart and delicious. Top them with antioxidant rich dark chocolate for a health bonus!
Healthy Snacks for the Big Game