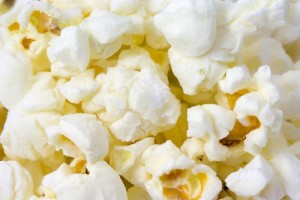 Popcorn is a healthy, filling snack – it is low in calories (1 cup of popcorn contains only 30 calories) and it is a good source of fiber. It also contains more iron than spinach, eggs, peanuts and roast beef! It contains almost no fat, has no sugar and no salt and when prepared the right way it can really help to satisfy your afternoon snack craving. When I say prepared the right way – I'm referring to air-popped popcorn, not the kind that is loaded up with extra butter & salt and definitely NOT from a pre-packaged microwave popcorn bag (have you SEEN the ingredient list)!
A few months ago I shared a quick and easy way to make microwave popcorn using a brown paper bag.  This is a great option if you do not have an air-popper. But if popcorn IS your thing, an air popper might not be a terrible investment. You can find a reasonably priced air popper in your local Target or Walmart as well as Amazon.
Now that you are officially a popcorn popping expert – it's time to have some fun! Air popped popcorn doesn't have to be boring – and the fun folks from Greatest.com have compiled a list of 30 Healthy Popcorn Recipes that can curb any food craving! From sweet to savory, you'll find it on this list. Just be careful to watch some of the prep-steps. Substitute pan-popping for air-popped and instead of using butter – try misting a bit of Olive Oil, Coconut Oil or Grapeseed Oil to the popcorn to help the spices adhere.
A few of MY favorites include the Cilantro Lime Popcorn from Bake Your Day. the Apple Pie Popcorn from Sweet as a Cookie and Vanilla Almond Popcorn from Real Food Real Deals.
What is YOUR favorite way to enjoy popcorn? Share YOUR recipes in the comments so we can share them with our readers!
Snack Healthy with Popcorn