Chicken Parmesan Zucchini Boats Recipe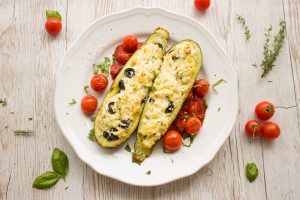 INGREDIENTS
SERVES: 4
4 medium zucchini (about 1¾ pounds)
1 lb. ground chicken
¼ tsp. salt
¼ tsp. ground black pepper
2 garlic cloves, minced
1 cup pasta sauce
¼ cup grated parmesan cheese
½ cup shredded mozzarella cheese
Optional: sliced fresh basil for topping
INSTRUCTIONS
Preheat oven to 400 degrees F. Spray a 9×13 inch baking dish with cooking spray.
Place a large non-stick skillet over medium-high heat. Add the chicken and break it apart with a spoon. Add the salt and pepper. Cook for 8 to 10 minutes, until chicken is cooked through. Stir occasionally and break down the chicken into small chunks.
Reduce the heat to low. Add the garlic to the chicken. Cook 1 minute stirring often. Add the pasta sauce. Cook 3 minutes, stirring occasionally.
As the chicken cooks, cut the zucchini in half, lengthwise. Use a spoon to scoop the seeds and center out of each zucchini half, leaving a ¼ inch thick zucchini boat.
Place the zucchini in the baking dish cut-side up.
Spoon the chicken mixture into the zucchini boats. Press the mixture down into the zucchini using the back of the spoon.
Sprinkle the zucchini evenly with the parmesan, then the mozzarella cheese.
Cover the baking dish with foil. Bake for 35 minutes.
Sprinkle with fresh basil and serve.
NUTRITION INFORMATION
Serving size: 2 halves Calories: 332 Fat: 17.8 Saturated fat: 6.1 Carbohydrates: 13.3Fiber: 2 Protein: 38.2
Recipe by Amanda Finks
---
Meat, Tomato, and Mozzarella Stuffed Zucchini Cups
INGREDIENTS
SERVINGS: 6-8
2 large zucchini or yellow squash, about 12 inches long
2 tsp. + 2 tsp. olive oil (may need more, depending on your pan)
1/2 cup finely chopped onion
1 green pepper, finely chopped
2 T finely minced fresh garlic
1 lb. ground beef (10% fat or less)
12 oz. ground turkey (10% fat or less)
(use any combination of ground meat you'd like, but use low-fat ground meat for the South Beach Diet.)
1-2 tsp. Spike seasoning (optional but recommended)
2 C flavorful tomato-basil pasta sauce
2 cups low-fat mozzarella or other mild white cheese (I used low-fat blend of six cheeses called Italian blend.)
INSTRUCTIONS
Preheat oven to 350F/175C. Chop onion and green pepper. Heat 2 tsp. olive oil in a non-stick pan, then saute onion and pepper for 3-4 minutes, until just starting to soften. Add minced garlic and saute about 1 minute more, being careful not to brown the garlic. Remove the onion, pepper, and garlic mixture to a bowl.
Add 2 tsp. more olive oil to the pan. Crumble in the ground beef and ground turkey, season with Spike seasoning, and cook over medium heat until the meat is well browned. Tilt pan to see if there is any extra fat, and remove with a spoon if there is, then stir cooked vegetables and garlic back into the meat. Add tomato sauce and simmer until the mixture has thickened and liquid has cooked off, about 10 minutes, then turn off heat.
While meat cools, cut zucchini into 2 inch thick slices, discarding ends. Use a sharp spoon or melon baller to hollow out a cup in each zucchini slice, leaving just over 1/4 inch of zucchini flesh. Be careful not to get too close to the skin or the cups will leak liquid when they cook.
Spray baking sheet with nonstick spray and stand up zucchini cups, open end up. Stir 1 1/2 cups grated cheese into the cooled meat mixture (it doesn't need to be completely cool), then spoon the meat-cheese mixture into zucchini cups, pressing down with the spoon and mounding it up a little over the top of the zucchini.
Bake zucchini cups for 20 minutes, then remove from oven and use remaining cheese to top each one with a generous pinch of cheese. Put back in oven and bake 10-15 minutes more, until zucchini is slightly soft when pierced with a fork and cheese is melted and lightly browned. Serve hot.
Recipe created by Kalyn