Baked Zucchini Fries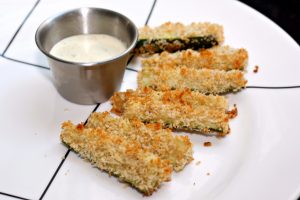 INGREDIENTS
SERVINGS: 2
2 medium zucchini, sliced into sticks
1 large egg white
⅓ cup seasoned bread crumbs
¼ tsp. garlic powder (optional)
cooking spray
salt and fresh pepper
INSTRUCTIONS
In a small bowl, beat the egg whites and season with salt and pepper. In a ziplock bag, place the breadcrumbs and garlic powder; shake well. Spray a cookie sheet with cooking spray and set aside.
Dip the zucchini sticks into the egg and then place into the bread crumb mixture, a few at a time and shake to coat. Place the breaded zucchini in a single layer and spray more cooking spray on top. Bake at 400 degrees for 20 – 25 minutes, or until golden brown. Serve with some marinara sauce for dipping.
Recipe by Lindsay from Pinch of Yum
---
Tomato & Zucchini Frittata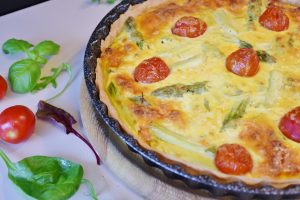 INGREDIENTS
SERVES: About 3
6 eggs
¼ cup Original Almond Breeze Almond Milk (Unsweetened)
1 teaspoon olive oil
handful of chopped leafy greens (sweet potato greens, or spinach)
1 small zucchini, sliced into thin coins
1 clove of garlic, minced
(optional) pinch of smoked paprika
2 medium tomatoes, sliced
handful of cherry tomatoes, halved
fresh herbs – sage, thyme or basil
salt & pepper
INSTRUCTIONS
Preheat oven to 375 degrees.
Whisk together eggs and almond milk with a pinch of salt. (For a fluffier frittata, I like to do this in a blender). Set aside.
Heat an 8 or 10 inch skillet on the stove. Add a bit of olive oil, then add the chopped greens, zucchini, minced garlic, and a few pinches of salt and pepper. Cook for just a minute or so – until the greens wilt and the zucchini starts to soften. Add a pinch of paprika, stir, then add the eggs.
Add the tomatoes, more salt & pepper. Turn the stove off and slide your pan into the oven.
Bake for 20-30 minutes, or until eggs are just set.
During the last 5-ish minutes of cooking time add sage and thyme on top. (If you're using basil, add it just as the frittata comes out of the oven).
Remove from oven, let cool for 15 minutes (or more), then slice and serve. Add more salt & pepper to taste.
NOTES
If you're using a skillet larger than 10 inches, use 8 eggs instead of 6.
For a prettier frittata, add all of your veggies in 2 layers. Add the first half as written, then add the rest after your eggs have partially set in the oven. Continue cooking until eggs are fully set. (Note: this step is entirely not necessary for the actual taste).
Recipe by Jeanine from Love & Lemons